Friday, 22 April 2011
We all love cake
Each week I will bring you recipes and other information about cakes, and their origins
I will try to include gluten free cakes and a variety of different information.
Today we will start with a recipe for the humble but so delightful and versatile cupcake.
We all adore them they come in so many varieties and decoration well can be anything,
you don't have to be an artist to create a beautiful looking cupcake.
As a child there was something magical and wonderful when your mum said "lets bake some Fairy Cakes) I don't know what I used to imagine but being a huge fairy lover, I think I had visions of cakes invented by the wee folk *laughs* oddly I adore the look of a cupcake - fairy cake now even at 46 strange, perhaps a childhood thing.
History:
The first mention of the cupcake can be traced as far back as 1796, when a recipe notation of "a cake to be baked in small cups" was written in "American Cookery" by Amelia Simms. The earliest documentation of the term "cupcake" was in "Seventy-five Receipts for Pastry, Cakes, and Sweetmeats" in 1828 in Eliza Leslie's Receipts cookbook.
In the early 19th century, there were two different uses for the name "cup cake" or "cupcake". In previous centuries, before muffin tins were widely available, the cakes were often baked in individual pottery cups, ramekins, or moulds and took their name from the cups they were baked in. This is the use of the name that has persisted, and the name of "cupcake" is now given to any small cake that is about the size of a teacup. The name "fairy cake" is a fanciful description of its size, which would be appropriate for a party of diminutive fairies to share.
The other kind of "cup cake" referred to a cake whose ingredients were measured by volume, using a standard-sized cup, instead of being weighed. Recipes whose ingredients were measured using a standard-sized cup could also be baked in cups; however, they were more commonly baked in tins as layers or loaves.
In later years, when the use of volume measurements was firmly established in home kitchens, these recipes became known as 1234 cakes or quarter cakes, so called because they are made up of four ingredients: one cup of butter, two cups of sugar, three cups of flour, and four eggs.
They are plain yellow cakes, somewhat less rich and less expensive than pound cake, due to using about half as much butter and eggs compared to pound cake. The names of these two major classes of cakes were intended to signal the method to the baker; "cup cake" uses a volume measurement, and "pound cake" uses a weight measurement.
In the early 21st century, a trend for cupcake shops was reported in the United States, playing off of the sense of nostalgia evoked by the cakes. In New York City, cupcake shops like Magnolia Bakery gained publicity in their appearances on popular television shows like HBO's Sex and the City. In 2010, television presenter Martha Stewart published a cook book dedicated to cupcakes.
The Cupcake:
A cupcake (British English: fairy cake; Australian English: patty cake or cup cake) is a small cake designed to serve one person, frequently baked in a small, thin paper or aluminium cup. As with larger cakes, frosting and other cake decorations, such as sprinkles, are common on cupcakes.
Lets see some cards that are hugely popular and associated with the cupcake.
GCU: Cupcake Greeting Cards





BASIC CUPCAKE RECIPE
A standard cupcake uses the same basic ingredients as standard-sized cakes: butter, sugar, eggs, and flour. Nearly any recipe that is suitable for a layer cake can be used to bake cupcakes. Because their small size is more efficient for heat conduction, cupcakes bake much faster than layer cakes.
* 125g butter
* 125g caster sugar
* 1/2 teaspoon vanilla essence
* 2 large eggs
* 125g self-raising flour, sifted
* 2 tablespoons milk
* By Hand Method
o Cream the butter and sugar together in a bowl and then add the vanilla essence.
o Add the eggs, one at a time, adding a spoonful of flour between each.
o Fold in the rest of the flour and then add a little milk as needed.
* Food Processor Method
o Add the butter, sugar, vanilla essence, eggs and flour to the food processor and blend until smooth.
o Add a little milk and pulse - add enough milk to achieve a soft, dropping consistency.
* Divide the mixture between 12 bun cases in a muffin tin. Bake in the oven at 200°C (Electric oven | Electric fan oven 180°C | Gas Mark 6) for 10 - 20 minutes until cooked and golden on top. Don't overcook the fairy cakes otherwise they will dry out. Lift the fairy cakes out of the muffin tin and leave to cool on a wire rack.
* For a simple icing topping, add a little water to some icing sugar until you have a smooth paste. When the cakes are cool, drizzle some icing mixture over the top. These fairy cakes are best eaten on the day they are made.
My Butter cream Icing Solution, not everyone likes the icing suggar method, others do not like the butter cream, due to it's sickly nature, I have found a little idea you might like for that.
Ingredients
*140g/5oz butter, softened
*280g/10oz icing sugar
*1-2 tbsp milk
*few drops food colouring
Preparation method
1. Beat the butter in a large bowl until soft. Add half of the icing sugar and beat until smooth.
2. Add the remaining icing sugar and one tablespoon of the milk and beat the mixture until creamy and smooth. Beat in the milk, if necessary, to loosen the mixture.
3. Stir in the food colouring until well combined.
Now my bit, place 3 tsp of Rose Water in the icing mix, it totally alters the sickly taste and adds a little something different, my husband hates Butter Icing but will quite happily snaffle the cakes up fast if they contain the rose water.
Some pretty Cupcake Greeting Cards because at the end of the day, we all love a cupcake, even the pictures are aluring ;)
Shoes bags you name it cupcakes rule it :), how can anyone resist these lovely versatile little products?

Pink Brown Cupcake Invitation
by
suncookiez
See other
Cupcake Invitations

Cupcake Princess
by
cupcakewear
Browse more
Doonidesigns Postcards

Little Cupcake, Baby Shower Invitations
by
AudreyJeanne
Browse
Cupcake server Invitations
More Decoration:
A finished cake is often enhanced by covering it with icing, or frosting, and toppings such as sprinkles, which are also known as "jimmies" in certain parts of the United States and "hundreds and thousands" in the United Kingdom. Frosting is usually made from powdered (icing) sugar, sometimes a fat of some sort, milk or cream, and often flavorings such as vanilla extract or cocoa powder. Some decorators use a rolled fondant icing. Commercial bakeries tend to use lard for the fat, and often whip the lard to introduce air bubbles. This makes the icing light and spreadable. Home bakers either use lard, butter, margarine or some combination thereof. Sprinkles are small firm pieces of sugar and oils that are colored with food coloring. In the late 20th century, new cake decorating products became available to the public. These include several specialized sprinkles and even methods to print pictures and transfer the image onto a cake.
Special tools are needed for more complex cake decorating, such as piping bags or syringes, and various piping tips. To use a piping bag or syringe, a piping tip is attached to the bag or syringe using a coupler. The bag or syringe is partially filled with icing which is sometimes colored. Using different piping tips and various techniques, a cake decorator can make many different designs. Basic decorating tips include open star, closed star, basketweave, round, drop flower, leaf, multi, petal, and specialty tips.
Royal icing, marzipan (or a less sweet version, known as almond paste), fondant icing (also known as sugarpaste) and buttercream are used as covering icings and to create decorations. Floral sugarcraft or wired sugar flowers are an important part of cake decoration. Cakes for special occasions, such as wedding cakes, are traditionally rich fruit cakes or occasionally Madeira cakes (also known as whisked or fatless sponge), that are covered with marzipan and either iced using royal icing or sugarpaste. They are finished with piped borders (made with royal icing) and adorned with a piped message, wired sugar flowers, hand-formed fondant flowers, marzipan fruit, piped flowers, or crystallized fruits or flowers such as grapes or violets.
Cute little cupcake shoes
Cute Chocolate Cup Cakes Art Kids Pink Keds Shoes
by
mannysThoughts
Browse other
Cup Shoes
Aww how cute is this cupcake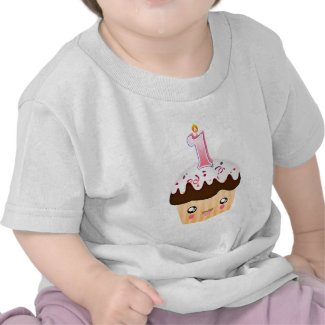 1 Year Cupcake T - Pink
by
hsrhea
Browse other
Girl T-Shirts
NEXT WEEK::::: The Wonderful Angel Cake :) hope you will join me for this recipe
Posted by

Moonlake
at 12:43
1 comment:

Sunday, 3 April 2011
Posted by

Moonlake
at 15:37
No comments: